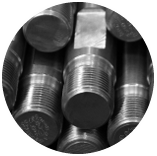 We have manufactured parts and accessories for the oil industry for over 40 years, and we are the only company in South America which produces the complete range of polished rods under the API 11B-11D Norm (specification).
Learn More +
Industrial
solutions
DIVISION
We manufacture and/or recondition all kinds of industrial parts through machining techniques and hard coating. We also provide, among other solutions, non-woven fiber rolls.
Learn More +
Given that the industry sectors we supply demand the highest quality standards, we have had ISO 9001 TÜV RHEINLAND certification since 1997.
Learn More +